Why leave your cat in a small cage when you can have a Cat Chalet condo? All of our accommodations are condos that have enough room for one person to go in, close the full-size door, and sit down. Each condo has a clean litter box, food and water, and 2 shelves with curtains to protect their privacy.

Each litter box is cleaned once a day or more often depending on your cat's usage. To ensure your cat is staying in the cleanest possible environment, we've equipped the Cat Chalet with a special ventilation system to provide fresh and clean air daily. Food and water is provided and changed twice a day. You can rest assured that the Cat Chalet will take good care of your loved one. The Cat Chalet is part of my home, therefore, there is always someone nearby to make sure your cat is enjoying his/her visit.


We accept kittens as long as they have had their shots. After 6 months of age, they must be spayed or neutered. There will be no exceptions!
| | |
| --- | --- |
| | |
If your cat has a medical condition requiring an injection, please board your cat with your vet. We do not do injections and, therefore, cannot accept your cat(s) for boarding.

We take every measure to maintain a healthy environment for your cat while boarding with us. However, if your cat becomes ill while in our care, we will not hesitate to take your cat to our vet. Veterinary bills are the owner's responsibility. Any vet visit will incur a $25 transportation charge per visit.

Vaccinations
We require all of our clients to bring a current record of rabies and distemper vaccination. All cats must be free of external parasites. This is to benefit all our clients. If your cat goes outside, please use a Flea and Tick topical medication from March through November.
Medications




On request, we will administer oral or topical medications for $6.00 a night, per cat, which will be added to your bill. All directions must be in writing.
Food and water
Food and water is provided and changed twice a day. We prefer to use our food, Purina Cat Chow dry food and Friskies or Fancy Feast canned food. If your cat is on a prescription diet or has allergies, please provide your own food with written directions. Please do not bring the large dry food bags over 3.5 lbs. Put the dry food in smaller bags and label it with your name and the name of the dry food.
Reservations


Please call well in advance for a reservation. Call Monday through Friday, 9 AM - 12 noon and 3 PM to 6 PM, Saturday, 9 AM - 12 noon, and Sunday, 9 AM - 10 AM. Holidays and summer months from Memorial Day until Labor Day sell out months in advance.
Visits
Visits to boarding pets by owners or designated people are permitted but not normally recommended. It is often very disturbing and stressful for your cat who is trying to adjust to a new place. After your visit, the cat may often cry for days or not eat properly, therefore, it makes it difficult for us to make your cat's stay enjoyable. They will remember you when you return.
If you wish to arrange a visit with your pet, please schedule one in advance. A 10 minute visit is all that we can allow.

Favorite toys, food dish or blanket
Do's:
You can bring 1 toy and a small towel or clothing that can be laundered and that will fit neatly in the condo. We do not wash every day; therefore, sometimes we may send back items dirty in a plastic bag.

Also, if your cat drops its toy, including its mouse, in the litter box, the toy will be discarded with the litter. Cleanliness is a strict policy for the Cat Chalet, and we want your cat's stay to be healthy and happy.

Don'ts:
Litter Box - Litter - Food or Water Bowls - Scratching Posts - Medium to Large Beds - Comforters - Blankets for your bed - Too many toys - Items with string.

Litter box problems
We do accept outside cats or cats that don't use the litter box. We will simply clean up any messes that occur.
Touring the Cat Chalet
If you would like to take a tour of the Cat Chalet, call us at 973-989-6160. We will be happy to schedule a tour anytime during business hours except on Sundays and busy pre-holiday check-ins when there simply is not enough time for you to experience our facility.
Day of discharge
If you know that your pet gets carsick, please let us know and we will be sure not to feed him/her right before you will be picking up to avoid car sickness.
The Cat Chalet always provides your pet with plenty of fresh water. Please do not give your pet access to a lot of water or food when they arrive home. Although you may think that your pet is very thirsty, in actuality it is anxiousness and excitement that makes your pet gorge on food and water. This could cause vomiting and diarrhea, so we encourage you to allow your pet to settle at home for a while before giving him or her any food or water.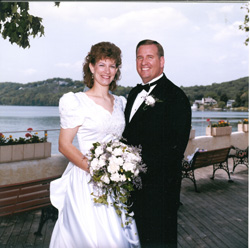 Susan Spreder-Mohr grew up in Sparta, NJ. After graduating Sparta High School, she attended Morris County Community College with an AS in Business. She was employed by the Cozy Cat, Marriott Hotels, Warner Lambert, American Home Products and Knoll Pharmaceutical Company. Since 1995, she has dreamed of owning her own business. She has gained a plethora of experience in administration, manufacturing, forecasting, pricing, accounting, customer service, marketing and sales by spending her last five years working in marketing for Knoll Pharmaceutical. Chicago based Abbott Labs bought Knoll Pharmaceutical in March 2001, and she was laid off on May 10, 2001. On May 19, 2001 she was married to Gregory C. Mohr from Blairstown, NJ. With a new husband and a new future ahead of her, she decided to start that business she always dreamed about -- the Cat Chalet.
Susan Spreder-Mohr is a cat owner herself who understands the need for a quiet, cat-only facility that will assure customers that their cats will be treated like one of the family. Working in the feline care industry is not new to Spreder-Mohr who in 1984 worked for Dr. Emil E. Perona during the startup of the Cozy Cat boarding facility in Andover, New Jersey. She raised Grand Champion Persians for breeding and show from 1984-1993. She started grooming cats in 1982.
Trust the Cat Chalet to treat your cat like our own.
For More Photos of The Cat Chalet see Photo Gallery
All rights reserved.
Website design & hosting by